Create a new Hotmail account — This tutorial shows you how to setup and create a free Hotmail account and make a new Hotmail email address. Setting up and creating a new Hotmail account only takes a few minutes, but choosing a new Hotmail user name that isn't already taken by one of the million users registered with Hotmail can be more challenging. To sign up for Hotmail, go to the MSN account registration page:

For the Hotmail Signup Form, go to:
SignUp.Live.com
(Live.com is the new name for the set of online services Microsoft offers, part of the "Windows Live" initiative. Hotmail, or "Windows Live Hotmail", is just the webmail offering of these free services.)
SIGN UP TO CREATE A HOTMAIL ACCOUNT AND MAKE A NEW HOTMAIL EMAIL ADDRESS

Open the link above to create your new Hotmail email address: the simple form that shows up collects all the information needed for your account creation. Information Hotmail requires not strictly part of opening your email account is used in case you forget your user name (the part of your email address that comes before "
@hotmail.com
") or if you have forgotten your Hotmail account's password. You can also supply an alternate email address for that purpose.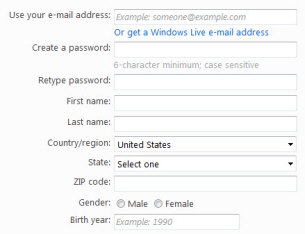 (Note that the alternate email address you supply during sign up does not have to be a Hotmail.com or Live.com email address. It is simply a way to allow Hotmail to contact you in case you forget your password, for example.)
CHOOSING YOUR NEW HOTMAIL EMAIL ADDRESS
Notice that you can use the Windows Live Hotmail service to check your email account from another domain name; this tutorial shows you how to create a standard email account. Click the "Or get a Windows Live e-mail address" link, which will let you choose a user name, and a choice between having an "@hotmail.com" email account or a "@live.com" email account. This is just a matter of preference, both services are identical.

Considerations: choosing your new email address' user name — When you create your new email account, the email address choice is important: it should ideally be easy to remember by your friends and relatives. You should also try to make your new email address as short as possible, since you will often have to type it in signup/registration forms, etc. Be aware that if you include your last name in your email address, it will be visible by anyone you send emails to. In some cases, anonymity is preferable.
Avoid creating an email address that includes numbers: most people will have difficulties remembering email addresses that contain numbers, underscores, hyphens, etc.
CHECK THE AVAILABILITY OF YOUR NEW HOTMAIL EMAIL ADDRESS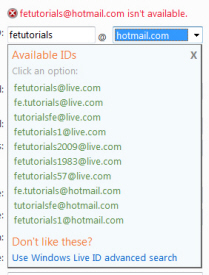 After you have typed a user name and chosen a domain (hotmail.com or live.com), click the
Check availability
button: this will let you try various username combinations until you find one that has not yet been taken.
Since Hotmail (and now Live.com) count millions of users, you may need luck to find an available user name in the first strike. Otherwise, keep going: Hotmail will let you know if an email address is taken or not.
If the user name/domain combination you choose is already taken, you will see a list of close matches that are currently available.
You can pick one of the email addresses for your new Hotmail account, or try different combinations.
CONFIRMING THE CREATION OF YOUR NEW HOTMAIL ACCOUNT
If the Hotmail version of your new email account is taken, you can try the Live.com version of it: once you find an available user name, you will receive a visual confirmation:

Since available Hotmail user names are so scarce for new accounts, quickly finish setting up your account before another new Hotmail users signs up for it!
(You can always open and setup another Hotmail email account with a different user name later on.)
Click the
I Accept
button, and your new Hotmail email address is ready to use: the next screen shows you a summary of your account, including a "
Go to my inbox
" link.

MAKE A NEW HOTMAIL ACCOUNT SECURE FROM UNAUTHORIZED ACCESS

Make your new Hotmail account safer from hackers by choosing a strong password; the password you choose when signing up with Hotmail can be changed at a later time (
how to change your Hotmail password
). Hotmail new accounts are always safer since they are not listed online (in public forums or otherwise), but choosing a strong password with uppercase, lowercase letters, and numbers will make your new Hotmail account more secure.
TIP: MAKE A NEW HOTMAIL ACCOUNT KNOWN TO FRIENDS AND FAMILY

The first step was to create a Hotmail account; the second step is to make sure that people know about your new email address — and you can do this directly from Hotmail. In fact, as you will see in our tutorial on
creating contacts in Hotmail
, you can at the same time add new contacts to your Hotmail account, and then email all these contacts from your new email address. The best way to let people know about your new Hotmail account is to write down recipients as you think of them, and email all of them once you think you have your complete list. This approach also allows you to write everyone a single email, as opposed to sending each contact a personalized email from your new account.
One case in which you might want to make your new Hotmail address known to others by using your old email account, is if you know that these contacts are likely to delete an email from an unknown sender; in that case, emailing them from your old account will ensure that they know about your new email address, and allow them to add it to their "safe senders" list.
Letting others know about your new email address is the most tedious part of the process, akin to moving or changing phone number. But this is a one-time chore, and you can look forward to emailing anyone from your new Hotmail account thereafter!
USING YOUR NEW HOTMAIL ACCOUNT

The new email is just a generic welcome email from the Hotmail/Windows Live team. The next tutorials show you how to use the
Hotmail inbox
, standard folders and how to create custom folders. Hotmail, especially in its latest incarnation, behaves much like regular email programs (Outlook Express, Windows Mail, etc.) which should be easy to learn.
Now that you have completed the sign-up process, your new Windows Live Hotmail account is now ready to use: the next tutorials will explain how to use Hotmail to read your emails and newsletters, how to send, reply to, and forward emails, etc. (Like sending your new Hotmail email address to friends and colleagues.) All tutorials are designed to let you familiarize yourself with the new Hotmail.